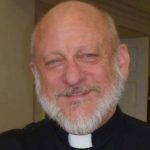 The Rev. Dr. C. Eric Funston undertook his initial theological studies through independent study in the Diocese of Nevada, where he was formerly the Chancellor of the Diocese, and also obtained a Certificate of Anglican Studies from the Church Divinity School of the Pacific in Berkeley, California. In June 1998, Fr. Funston was awarded the Doctor of Ministry degree by Seabury-Western Theological Seminary in Evanston, Illinois, in the field of Congregational Development: his dissertation was entitled Clergy Wellbeing and Congregational Vitality: A Study in Health Correlation.
In addition, Fr. Funston holds a Juris Doctor summa cum laude from California Western School of Law in San Diego, the Master of Business Administration from the University of Nevada at Las Vegas, and a Bachelor of Arts in Contemporary English and American Literature from the University of California at San Diego. Fr. Funston taught legal research and writing in the paralegal training program of Clark County Community College in Las Vegas, Nevada, and was an adjunct professor at Ottawa University – Kansas City teaching business law and developing courses in religion and leadership; he was also on the faculty of the Kansas School for Ministry, a ministry training program of the Episcopal Diocese of Kansas.
Currently, Fr. Funston serves in several capacities in the Diocese of Ohio, including the Trustees of the Diocese.  He has served has one of Ohio's alternate deputies to the Episcopal Church's General Convention.  He has also served as the Chairperson of the  Summit Mission Area Council, on the Ohio Diocesan Council, the Diocesan Capital Loans & Grants Committee, and the Diocesan Commission on Ministry. He was the convener of the Cedar Hills Camp and Conference Center Mission Evaluation Task Force, and has served as a Fresh Start mentor for clergy new to the Diocese. He is an active member of the Medina Ministerial Alliance and the Summit Mission Area Clericus. He is also a member and Past Worshipful Master  of Medina Lodge No. 58 of the Free and Accepted Masons of Ohio.
Dr. Funston served on the discernment section of the Diocese of Kansas's Commission on Ministry and on the diocesan Commission on Liturgy and Music. He formerly served on the Diocese of Kansas's Council of Trustees (Standing Committee) and on the Ecclesiastical Relations Committee of that Council. He has served as convener of the Clergy Wellness Taskforce for the Diocese of Kansas and on the Diocese of Kansas Committee on Constitution and Canons. He also previously served on the Kansas Diocesan Council (which was abolished by action of the Diocesan Convention in 1997).