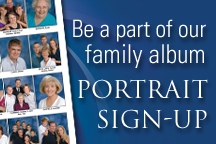 Be a part of our new family directory program!  Our goal is to include everyone!  We are partnering with Lifetouch for professional photography that will connect our families and tell our story.
The opportunity to schedule an appointment to have your picture taken for the upcoming St. Paul's Parish 200th Anniversary Directory is NOW!  Dates are Monday, April 24 (2-9 pm); Tuesday, April 25 (2-9 pm); and Wednesday, April 26 (2-9 pm).
Click here to make your appointment!
For assistance or additional information call coordinator Mary Jane Brewer at 330.722.1386.